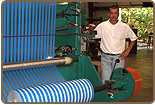 Holliston MA-Pagell Corporation, a contract converting company, was recently highlighted in an issue of Converting magazine for the company's innovative ideas.

Pagell, located in Holliston, Massachusetts, specializes in slitting and rewinding services.


Chuck Afonso, Pagell President, explains that the company was contacted by a client for a converting job that Afonso feared his current machinery was not capable of handling, "The thought of refusing the job was the furthest thing from my mind" recalls Afonso. Instead, Afonso and his staff got to work figuring out a way they could meet their client's needs. "We are always researching the latest technology and upgrading our equipment to keep pace with current industry demands," says Afonso.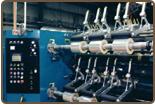 What impressed the editors at Converting magazine was how Pagell retrofitted a Dusenbery duplex center winder with an Erhardt and Leimer digital control system with a color line sensor. The color line sensor was the key to Pagell-this added component allowed the company to complete an intricate converting job that involved precise slitting and rewinding capabilities. "Our commitment to quality production and customer satisfaction is critical. Keeping pace with our clients' needs in the slitting and rewinding industry has been the cornerstone of Pagell's success over the past 50 years," says Afonso.


Pagell's new digital system, allows the company to offer the latest technology to their clients. The new system has a color line sensor with a measuring range of +/- 10 mm. The sensor determines the positions of an edge or line within an accuracy of .02mm. Most importantly, the new system allows Pagell to offer their converting clients unparalleled accuracy and some of the tightest tolerances available for slitting and rewinding jobs.


Due to the global economy and today's high technology, Afonso says client's demands keep the company on their toes, "The variety of jobs a contract converter gets, along with the tight tolerances needed to complete some slitting and rewinding services, means we can't just rest on our laurels, " Afonso added "Adding new machinery and retrofitting what we have to increase our capabilities is part of our daily assessments."


When a client calls, the professionals at Pagell answer!